"New York Magazine Best Hospitals 2006″
New York Magazine, 2006
HIP REPLACEMENT
Hospital for Special Surgery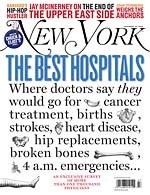 Hip replacement is now the safest and one of the most common types of joint-replacement surgery-about 330,000 procedures are performed in the United States each year-thanks in good measure to advances in the procedure pioneered at the HSS. The 270 doctors at the hospital replaced 2,608 hips last year-more than any other facility in the country-while maintaining safety standards that have been singled out as industry-leading by everyone from the NIH to the Consumers' Research Council of America to the AARP. The average length of stay for a single hip replacement at HSS is 4.48 days (that's considered excellent), and its strict adherence to surgical-infection-prevention measures earned it the No. 1 ranking in the area from the New York State Department of Health. Dr. Thomas Sculco has pioneered a smaller-incision hip-surgery technique that can minimize pain, side effects, and recovery time, and Dr. Edwin Su is one of the first surgeons in the country to do hip resurfacing, a new procedure that preserves the joint by using an innovative metal implant.